PICK THE BEST FOR AMERICA'S BEST
FIVE ACTIVITIES THAT ARE EVEN BETTER WITH AMERICA'S BEST CHEW
A NEW FAMILIAR NAME WITH A FAMILIAR HERITAGE
THE ORIGINAL TASTE OF AMERICA
CHOOSE AMERICA'S BEST CHEW®
SWEET TOBACCO TASTE WITHOUT THE SUGAR
AMERICA'S BEST CHEW® SILVER BLEND
ö
For more than 100 years, America's Best Chew® has been made with
top-quality tobacco, today delivering legendary taste in
Original, Select, Golden and Silver blends.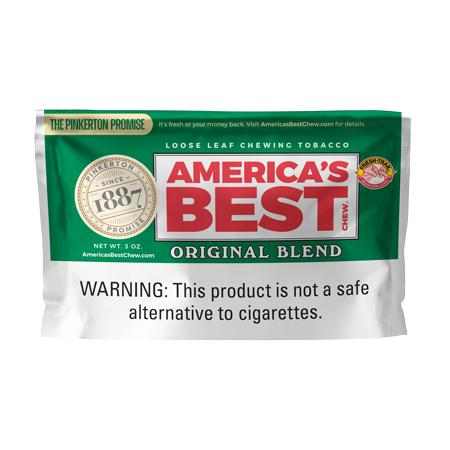 ORIGINAL
For 135 years, we've made our Original chew with the highest quality tobacco, to deliver the legendary taste that only comes from America's Best Chew.
GOLDEN BLEND
The same satisfying taste you know and love from America's Best Chew, now brought to you in an even smoother, more balanced blend.
SELECT
Full-bodied and blended to perfection. America's Best Chew Select is made from a rich choice premium-leaf tobacco for a unique taste.
BIG SAVINGS ON AMERICA'S BEST CHEW®
See your Coupon offers here.
FIND AMERICA'S BEST CHEW® NEAR YOU
Your closest stores are just a click away.